Summer is a best season to do a hair color switch – up. Most of people lean towards going colorful brighter colors as their first choices, and rainbow hairstyles has became to a new trend in recent years. However, here's a dilemma that people who's wanting for a rainbow hair may confront with, and it always result in hindering people to do so – going for a brighter hair color means we have to bleach our own hair and bleaching is a damaging but necessary process if we want to get our hair tinted well.
Wearing a wig can be considered as a perfect way to protect your natural hair. You can create tons of beautiful shades and achieve your dreamy hair effects on a good quality human hair wig instead of damaging your own hair!
Here, we've laid out the latest summertime hair color options to make colorful rainbow style a breeze. Whether you're a soft pastel neon type of person, or a bold bright vivid rainbow one, we've got your inspo sorted.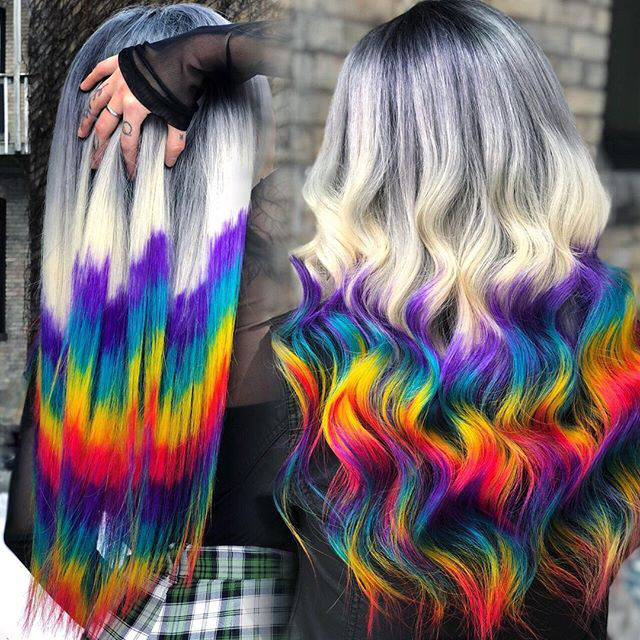 1. Trippy Rainbow- Created by @kayla_boyer using Chloe – Remy Human Hair Lace Wig
"I love this because it's so bold and different.. before I started coloring this wig I had so many different ideas but I wanted it to be a bold statement. It looks so cool when it's because held in different ways".
2. White Platinum Blonde. Pastel Unicorn. Lake Blue Dip. Blue Ombre.
@janna_niki create 4 different beautiful shades on the same one Chloe- Remy Human Hair Lace Wig
Watch full version to learn how she did this incredible job!
3. Lavender Ombre
Tutorial Time:
Get the same lavender Ombre wig step by step with @victorialoopz by using Chloe- Remy Human Hair Lace Wig
Comment down below let us know what your favorite rainbow color is and which hair color above is your favorite.
Further Reading: